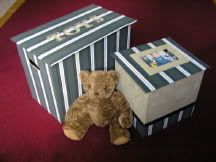 Our condo has been overrun by our 12 month old's gazillions of toys lately that we needed more toy containers. Instead of buying them I decided to make use of a couple empty diaper boxes that was going to be thrown away. Here is how it turned out and I even got to make a photo storage box out of the extra material.
This might be something other moms would want to do too, a customized toy container made out of recycled material. Make 2 or more and it's a great space saver since you can stack the boxes on top of the other. The project can be done in 45 minutes to a half day, depending on skill level and number of children underfoot.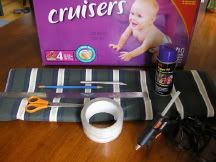 Here is what you'll need:
2 diaper boxes
approx. 1 yard of cloth (preferably upholstery material)
cutter (nice to have: Xacto knife but very sharp, be extra careful around children)
pencil
ruler
spray glue
hot glue
adhesive tape
1/4 yard of cloth, different color (*optional)
TOYS letter print out with font size=250 like in sample (*optional)
Step 1: cut out the 3 flaps of Diaper Box #1, only one of the wider flaps of the box remains attached.
Step 2: tape the wide flap on top and under of the still attached flap, making one big flap.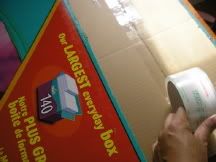 Step 3: cut out one of the bigger sides of Diaper Box #2 to make a cover lid for Diaper Box #1.
Step 4: measure the corrugate, it should be at least 1 inch bigger (on all sides) than the top flap of the diaper box.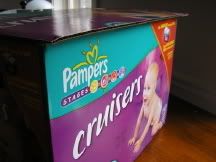 Step 5: cut out cloth. It should have an allowance of 1 inch all around for sides A, C and cover lid. It should be the same size for B, D and bottom of box.
Step 6: Spray glue cloth for sides A and C. Burnish down on the sides of box and fold edges into the neighbouring sides. Remember to slice the corners into a "V" to make cleaner folds.
Step 7: Spray glue cloth for sides B and D. Burnish down on the respective sides of box.
Step 8: Spray glue cloth for inside of box cover and burnish down.
Step 9: Spray glue cloth for bottom of box then burnish down.
Note: When spraying glue follow instructions at the back of can. It's best to protect work area surface where spraying with newspapers because the stickiness can spread easily. It is also recommended to spray outdoors or in a well ventilated area.
*Step 10: lay-out the letter print-out on the lid and spray glue.
*Step 11: cut out the letters. Be careful not to throw out the inner circle of the letter "O".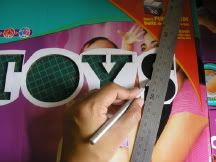 *Step 12: spray glue cloth, including the letter "O"'s inner circle and burnish on the corrugate lid. Fold the cloth edges under the board, slicing the cloth corners diagonally to form a "V"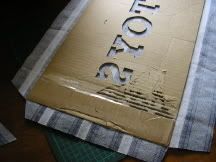 *Step 13: cut out the letters again.
*Step 14: spray glue cut piece of cloth #2 and burnish at the center on the top flap of the diaper box.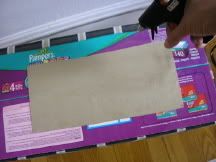 Box cover will look like this: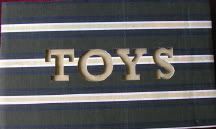 Note: Steps 10 to 14 are optional. Skip if pressed for time.
Step 15: if you have skipped Steps 10 to 14, spray glue cloth for top cover lid. Fold the cloth edges under the board, slicing the cloth corners diagonally to form a "V".
Step 16: hot glue lid and flap together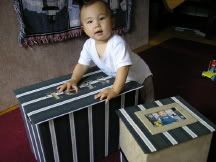 You have a treasure chest for you little ones' toys.
Tips:
– You can experiment with 2 or more fabrics as what I did with the photo storage, lining the joined edges with ribbon.
– Accents like big buttons, foamies of animals or toys can be added but not recommended if with children under 3.
– Suggested fabrics could be leatherette, suede (like in the photo storage box as pictured), artists' canvas, jute sack, even textured linoleum etc. Just make sure that the cloth doesn't get frayed on the edges and thick enough that the print from underneath doesn't show through.
First posted on 08/12/07